Superior directionality with the C-Trak Apollo gamma probe
1st December 2022
Made, serviced, and supported in the UK
The C-Trak Apollo gamma probe allows for the detection of radiation during sentinel node biopsies, parathyroid, and tumour localisation. Using the proven and well-respected OmniProbe®, the Apollo's superior directionality allows for accurate and precise detection of various isotopes, quicker subject identification and localisation, and less invasive procedures.
Building on the legacy of the popular Galaxy, the Apollo is the current and 5th generation of C-Trak. It is proudly made in the UK, enabling quick and easy support, training, and technical assistance, making it a success in the UK's public healthcare sector.
Wireless and wired probe connectivity
The C-Trak Apollo allows users to switch between wired and wireless handsets. Connecting via Bluetooth, the wireless handset allows surgeons performing timed counts to initiate these without other staff assistance. For those who prefer using a wired probe, the Apollo can be used with a traditional cable.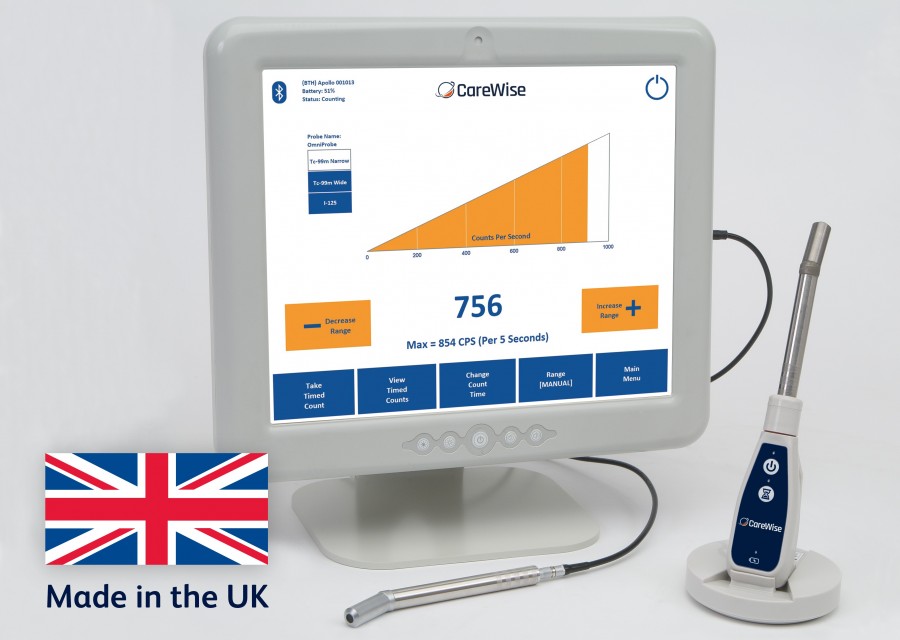 Find out more
From everybody at Care Wise, we would like to wish you all a happy festive period! You can learn more about the C-Trak Apollo by watching the video above or clicking the button below to request a one-to-one guided demonstration.