C-Trak Gamma Probe System reviewed by Head of Nuclear Medicine at UHCW
13th February 2020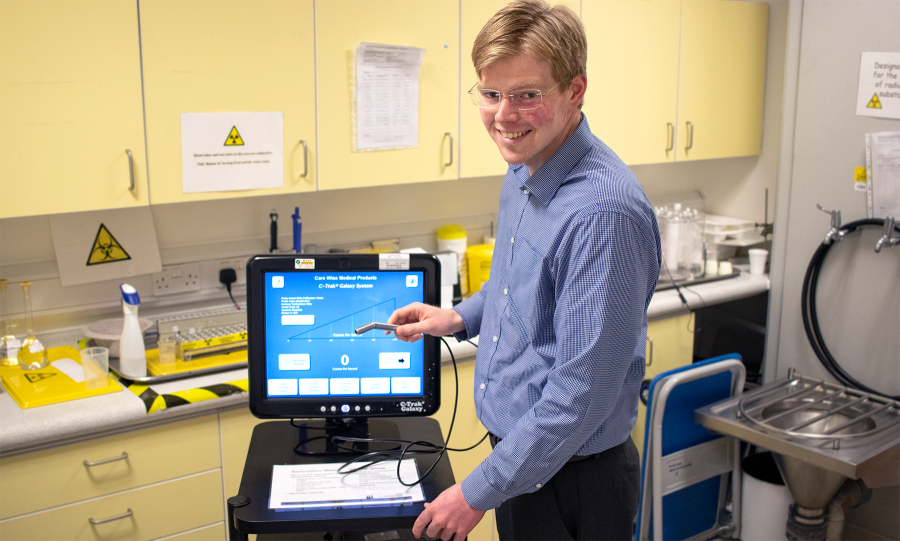 C-Trak Galaxy Gamma Probe System chosen by University Hospital Coventry & Warwickshire
The C-Trak Galaxy Gamma Probe System from Southern Scientific is used for the detection of radiation during sentinel node biopsies in breast, head and neck, melanoma and other intraoperative cancer surgeries.
Dr James Cullis, Head of Nuclear Medicine at University Hospitals Coventry and Warwickshire NHS Trust, explains why the Galaxy is the chosen system for surgeons specialising in head and neck cases.
"Easy to use and better spatial resolution"
For surgeons, high spatial resolution in gamma probe systems is preferred for precision and accuracy, Dr Cullis noted: "Compared to competitors, we found the Galaxy much easier to use and the system provided better spatial resolution for surgeons in theatre."
"Changeable collimators that improve directionality"
The OmniProbe has removable collimators making it flexible for a variety of procedures and the C-Trak Galaxy System can be fitted with alternative probes for specialist applications.
Not only is directionality improved in complex procedures by the Galaxy's ability to reduce the effects of Compton Scattering, but also by the easily changeable collimators. Dr Cullis added: "The changeable collimators are particularly helpful for surgeons in theatre when detecting nodes that are very close to the injection site such as in head and neck cancer."
"A useful demonstration for surgeons"
Dr Cullis said: "The demonstration of the probe was helpful, and allowing our surgeons to trial it in theatre was particularly useful."
Our product specialists are happy to provide demonstrations of the Galaxy and if surgeons would like to have a go themselves, that can be easily arranged.
"We would recommend Southern Scientific"
Product specialists at Southern Scientific are experienced in delivering training for the Galaxy instrument and provide the highest level of customer service.
Dr Cullis added: "Anna, a product specialist, delivered the initial training upon installation which was straight-forward and helpful for the surgeons, theatre team and Nuclear Medicine staff. The service we have received has been good and we would recommend Southern Scientific."