C-Trak Galaxy Gamma Probe System Reviewed by Breast Surgery Specialist
29th November 2018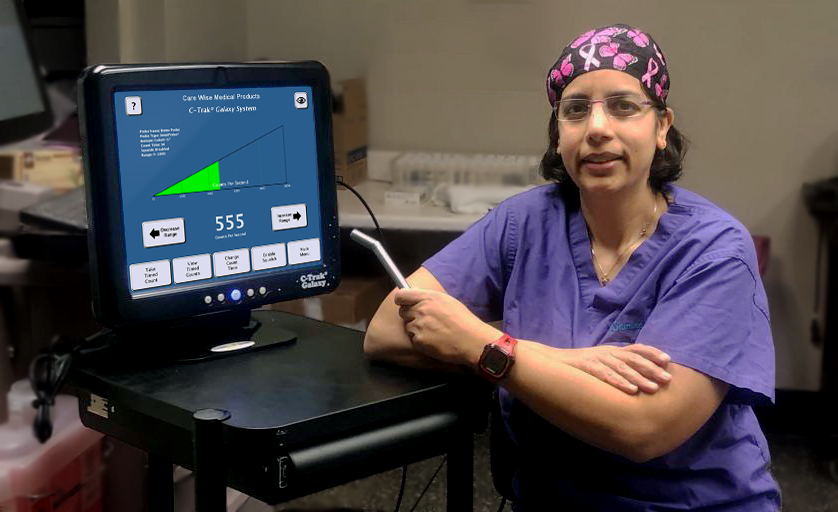 C-Trak Galaxy Gamma Probe System Reviewed by Dr Khera
The C-Trak Galaxy from Care Wise is a Gamma Probe System used for the detection of radiation during sentinel node biopsies in breast, melanoma and other intraoperative cancer surgeries.
Dr Samira Khera, M.S., M.D., FACS., specializes in breast surgery at Rochester Regional Health in New York, USA, and is an avid user of the C-Trak Galaxy.
"Easy to use and reliable"
The C-Trak Galaxy boasts a large touchscreen display with intuitive software, different from other gamma probe systems on the market which Dr Khera recognises the advantage of: "The Galaxy is an incredibly easy to use instrument, that helps me operate more efficiently, precisely, and expeditiously."
Having been a Care Wise customer for most of her practising career, Dr Khera has been using the Galaxy for two years. Previously, she used the predecessor instrument, the C-Trak Automatic Analyzer, for eight years. Dr Khera said: "I have yet to encounter a problem with the C-Trak range. Time after time, the products have proven they are reliable."
The C-Trak Galaxy incorporates narrow and wide energy threshold and window technology which is useful for surgeons when locating sentinel nodes. Dr Khera added: "When I'm working in the OR, sometimes with larger patients, it can be difficult to find a hotspot initially. With the Galaxy's Tc-99m wide window, I can find the sentinel node straight away which is extremely helpful and makes my job easier."
"Unrivalled directionality"
Compared to other systems on the market, the Galaxy uniquely eliminates scattered radiation - known as Compton Scattering. As a result, surgeons can be confident of the location of nodes of interest and subsequently only need to make small incisions during surgery.
Dr Khera said: "The C-Trak is definitely more targeted and precise than any other system I have used, providing unrivalled directionality. I find it easy to pinpoint the node of interest."
"The Galaxy is undoubtedly the best on the market - it should be used everywhere."
Because of its superior directionality, the C-Trak Galaxy system is popular amongst surgeons across both the UK, Europe and the US. Smaller incisions mean a faster patient recovery time, an obvious benefit for leading surgeons who therefore favour the Galaxy over competing products.
Dr Khera said: "In my opinion, the C-Trak Galaxy should be used everywhere. I haven't used anything that has been as good as the Galaxy. I've had the opportunity to work with competing products including the Neoprobe from Mammotome and the Navigator 2.0 from Dilon Technologies for use in breast sentinel node biopsies, but the C-Trak Galaxy is undoubtedly the best on the market - it is the only instrument I trust and have great confidence in."
"Phenomenal customer service"
Care Wise, a trusted and established manufacturer of gamma probe systems, work closely with their US distributors and representatives to provide the highest level of customer service.
Dr Khera is particularly impressed with the efficiency of her local Care Wise representative: "I've known the Care Wise distributor for over ten years now and they are excellent. They always pick up the phone and provide phenomenal customer service."